Newsletter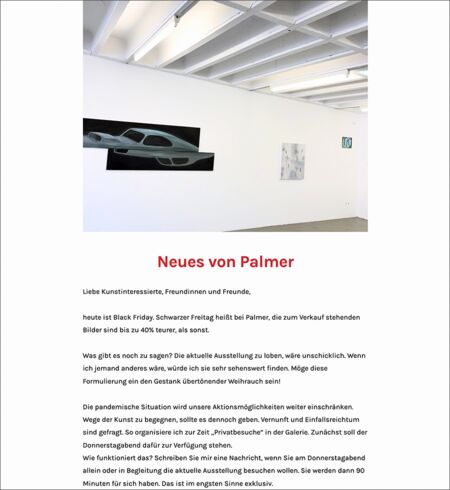 Der Newsletter erscheint unregelmäßig, je nach Anlass. Er enthält Hinweise auf aktuelle Ausstellungen, Veranstaltungen und Kurse.
Nach dem Absenden bekommen Sie eine Bestätigungsmail mit einem Aktivierungslink. Erst nach der Aktivierung ist der Newsletter bestellt. Mit der selben Adresse können Sie den Newsletter jederzeit kündigen. Die Daten werden sorgsam verwahrt und nicht an Dritte weiter gegeben.
Wenn sich Ihre Emailadresse ändert, denken Sie bitte auch daran, ein neues Abonnement abzuschließen.
Die Anmeldung entspricht den Anforderungen der DSGVO (siehe auch »Datenschutz«).
The newsletter appears irregularly, depending on the occasion. It contains, in addition to references to current exhibitions, events and courses, a preview and a competition.
After submitting, you will receive a confirmation email with an activation link. Only after activation the newsletter is ordered. With the same address you can cancel the newsletter at any time.
The data will be kept carefully and will not be given to third parties.
If your email address changes, please also remember to take out a new subscription.
The subscription complies with the requirements of the DSGVO (see also "Data protection").
Bitte beachten:
Sollten Sie eine Fehlermeldung beim Absenden eines Formulars erhalten, liegt das wahrscheinlich an Ihren Browsereinstellungen. Die Optionen "Privates Surfen" oder "anonymes Surfen" verhindern die Übertragung Ihrer Adresse. Bitte prüfen Sie Ihre Einstellungen.
Please note:
If you receive an error message when submitting a form, it is probably due to your browser settings. The options "private browsing" or "anonymous browsing" prevent the transmission of your address. Please check your settings.